Astrid Hedman – equine entrepreneur in Portugal that meets the best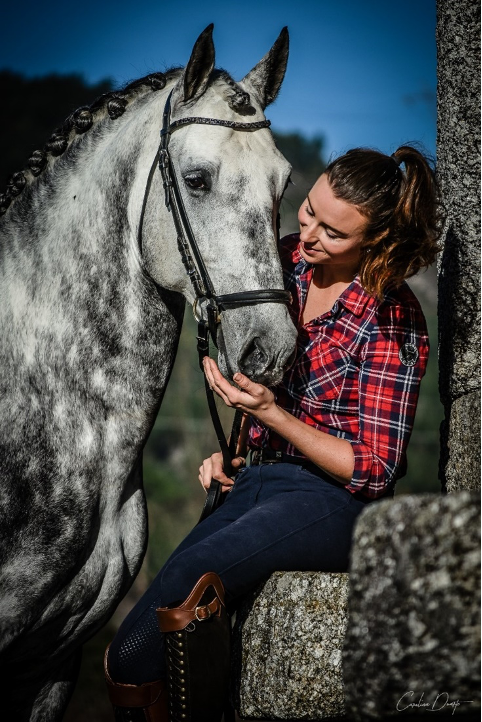 Astrid Hedman is, how she herself expresses it, the super horse nerd from Piteå that was just going to stay in Portugal for a year to work with horses. Now, nine years has passed. The culture, climate, and possibility to compete against the best is what made her stay. In 2018 she represented Sweden in the World Championships in Working Equitation. Now, Astrid is aiming toward a new championship and to continue to progress as an equine entrepreneur.
It was a YouTube-clip that sparked her curiosity for Working Equitation in 2011.
– I thought it looked exciting with the different parts and I wanted to learn more, Astrid tells us, who have shown up to S:t Georges in dressage and 1.10m in show jumping.
Astrid was considering going away to work abroad. Her trainer thought she should go for a different country than Germany or the Netherlands because of the tougher and harsher culture there. With that feedback and the newly acquired interest for working equitation, Astrid bought a plane ticket to Portugal. There she started out working for a Portuguese horse-breaker and later got the chance to work for several different stables. In 2014 she came to Renato Piairo, a breeder of Lusitano horses. There she stayed for five years and even got the chance to have the main responsibility as a horse-breaker.
– I got to ride six to eight horses every day and learned a ton. The horses were quite different in personality, take, and in the development area, which has given me many tools to work with. After five years I felt like it was time for a new challenge, so I decided to do my own race, Astrid tells us.
5 min to the barn and to the beach
Astrid lives today in Esposende which is located in the northern part of Portugal. From home it takes only five minutes to the beach and five minutes to the barn. During the high season of the summer it gets up to 28-30 degrees Celsius and during the winter up to 15 degrees Celsius.  It is vastly different from her hometown Piteå, where there is often snow from November till May. Besides the climate, Astrid feels like Portugal has its other perks as well:
– I really enjoy where I keep my horses now, it is a barn with 70 horses and nice arenas and turn outs. There are many horse shows here and since Portugal is a relatively small country you often happen to ride in the same class as the riders that are on the Olympic team.
This makes you motivated to become even better!
Coaches students in Sweden – From Portugal
Last year, Astrid started her own company that focuses on educating and selling horses. She usually also goes back to Sweden a few times a year to coach her students. One of them is Maja Forsell, (länka till Majas intervju) that Astrid has a training session with through Ridesum every other week. Astrid have also coached Maja on her warm-up at horse shows via Ridesum:
– That was cool! It really felt like I was there at the warm-up even though I was 400 miles away. I could give Maja feedback both when she was warming up and directly after she had ridden her program since I watched it live via Ridesum. It was great since Maja still had the feeling in her body then.
Now when Astrid sells horses to Sweden, she also plans to coach the buyers with their new horse via Ridesum. It will be a good support to not just get help from their usual trainer but also from the person who has broken-in and trained the horse.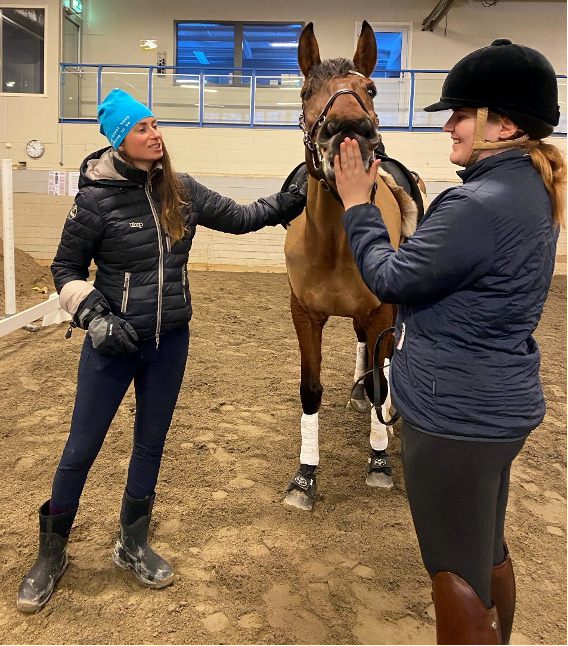 Even though Astrid trains her students in Sweden via Ridesum, she still visits a few times a year to coach them face-to-face.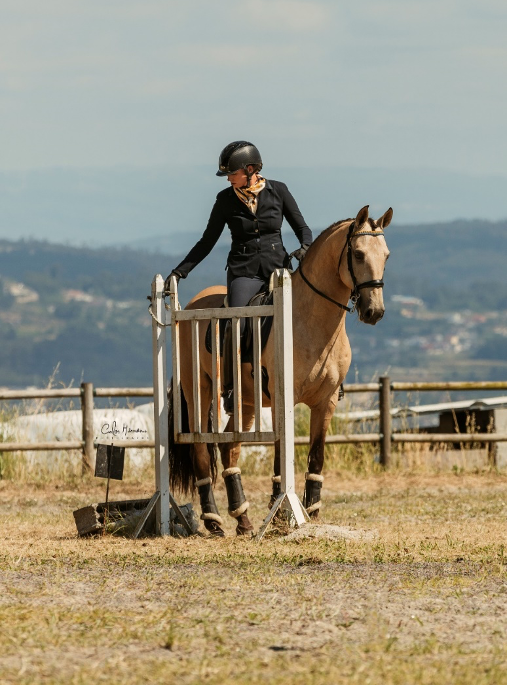 I Working Equitation, you combine obedience, teamwork, and speed. Here Astrid Hedman is opening and closing a gate in her ease of handling trial. Photo: Carlos Hernani.
Working Equitation – the ultimate test for horses and riders
Working Equitation is a relatively new discipline that is growing quickly. It consists of three different parts. The first one is a dressage test on an arena that is 20×40.  In this part, the focus is more on the horse's rideability and obedience than on having big gaits. The next part is an ease of handling trial with obstacles where you are being evaluated by a judge.
– It can be about opening and closing a gate, walking over a bridge, or riding in an eight-figure around barrels where the eight should be symmetrical and the lead changes should happen at the exact same spots. Obedience and the horse's trust to its rider is important. The gate at the competition will most likely look different from the one at home, Astrid tells us.
The last part is "Speed" where you are riding an obstacle course against time. If you tip over a barrel you will get time imposition, if you hit a ring on a wooden bull with the lance you get time deduction. The horse may not become too hot and must be able to make both sharp turns and controlled turns. The one who has the highest
points from all three parts wins.
– It becomes good riding. The communication with the horse is especially important. You cannot kick around the horse and pull on its mouth, instead it requires you to ride fast but highly technical. It is a lot of fun and the horses also thinks it is a lot fun, Astrid says.
European Championships 2021 and new ideas in sight
Astrid competed for Sweden at the 2018 World Championships in Working Equitation, which was a huge experience:
– It was very cool. I felt pretty small in that big arena and I needed a championship to see how everything worked. Next time I want to perform more results. It would also be fun to ride championship in dressage!

Now Astrid is aiming toward both the European and the World Championships in WE. Beyond that she also wants to progress as a trainer and continue to train and sell horses.
– I believe in an overall concept that I would like to explore when it comes to selling horses. From helping them with trying out the horse to the whole process of payment, change in ownership, transport, and continued training. There are many exciting opportunities when you are an entrepreneur! Astrid finishes. 
Do you have a Ridesum story to share and inspire others with?
Give us a tip at hello@ridesum.com or send a message through Facebook or Instagram. Please tag Ridesum in social media – #ridesum or @ridesum! (In order for us to see it you must have an open account.)
Astrid is aiming for the 2021 European Championships in WE and dreams of riding a championship in dressage in the future. Photo: Carlos Hernani.