Get to know a Ridesum trainer:
Lotta Pettersson
Ridesum is the ultimate equestrian app with a range of features for smart horse management. In our trainer bank, we have around 1900 registered trainers worldwide who are waiting to be booked. In this series of articles, we get to know some of our trainers!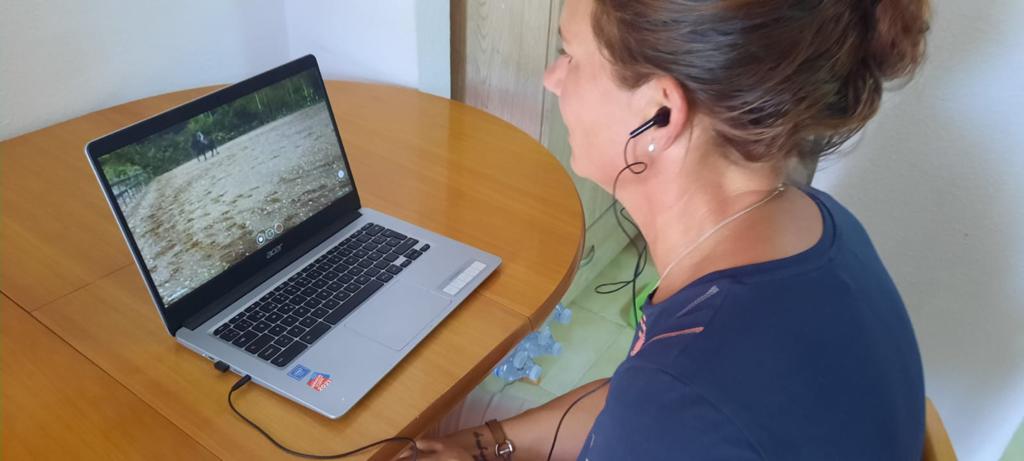 "Never give up!"
Meet the trainer of the month, Lotta Pettersson, whose motto is "never give up". After a serious injury, she was forced to change her whole life and the way she works with horses. In this interview, we take inspiration from Lotta's fighting spirit and knowledge of horses.
"The joy of training a horse yourself and seeing your students make progress is amazing. That, together with a passion for these wonderful animals, is what has made me choose to dedicate my life to horses and riders."
Today Lotta lives in Spain with her partner Jonas. The move to a warmer climate happened after Lotta had an accident with one of her young horses. She was so badly injured that she had to close down her business "Shangri-La" in Sweden. This was a concept that offered riders the chance to try collected dressage movements such as piaffe and passage. The move to another country involved a major adjustment as Lotta had been heavily involved in equestrian sport in Sweden all her life. Lotta has been passionate about riding since childhood and has worked as a groom at Gränsbo Stuteri, taken a degree in equine science, been a rider at Strömsholm and run a business selling horses. She is a qualified trainer at B-level and to keep working with her students in Sweden despite moving so far away, Lotta explored the possibility of training online. She discovered Ridesum and now runs regular online training sessions.
Lotta has been working as a trainer for over 17 years and describes her coaching method as educational and positive. One of her main strengths as a trainer is to see cause and effect and to be able to give the rider new "aha!" experiences. For Lotta, riding is about suppleness and how we can best influence our horses.
"If you want to train your horse to a high level, the most important thing for me is that the basic riding skills are correct and that your horse responds to light aids. The scales of training have been designed as a guide for training young horses and include rhythm, suppleness, contact, impulsion, straightness and, finally, collection. But a prerequisite for starting work with the scales of training is that the basics such as acceleration, brakes and turning are in place and functioning. The horse needs to be in front of the rider's leg, take a contact and understand the turning aids. After that, it is important that the rider has developed a feeling for riding the horse in balance in all the paces, that the rider is aware of their influence on the horse and that they can encourage the horse to relax and release both mentally and physically.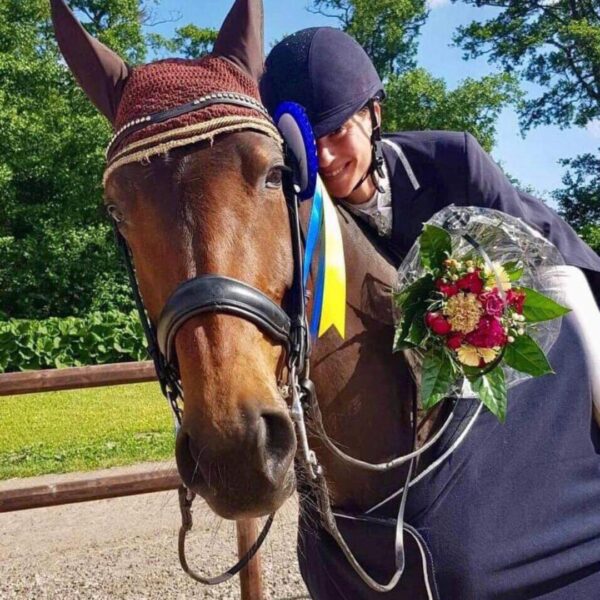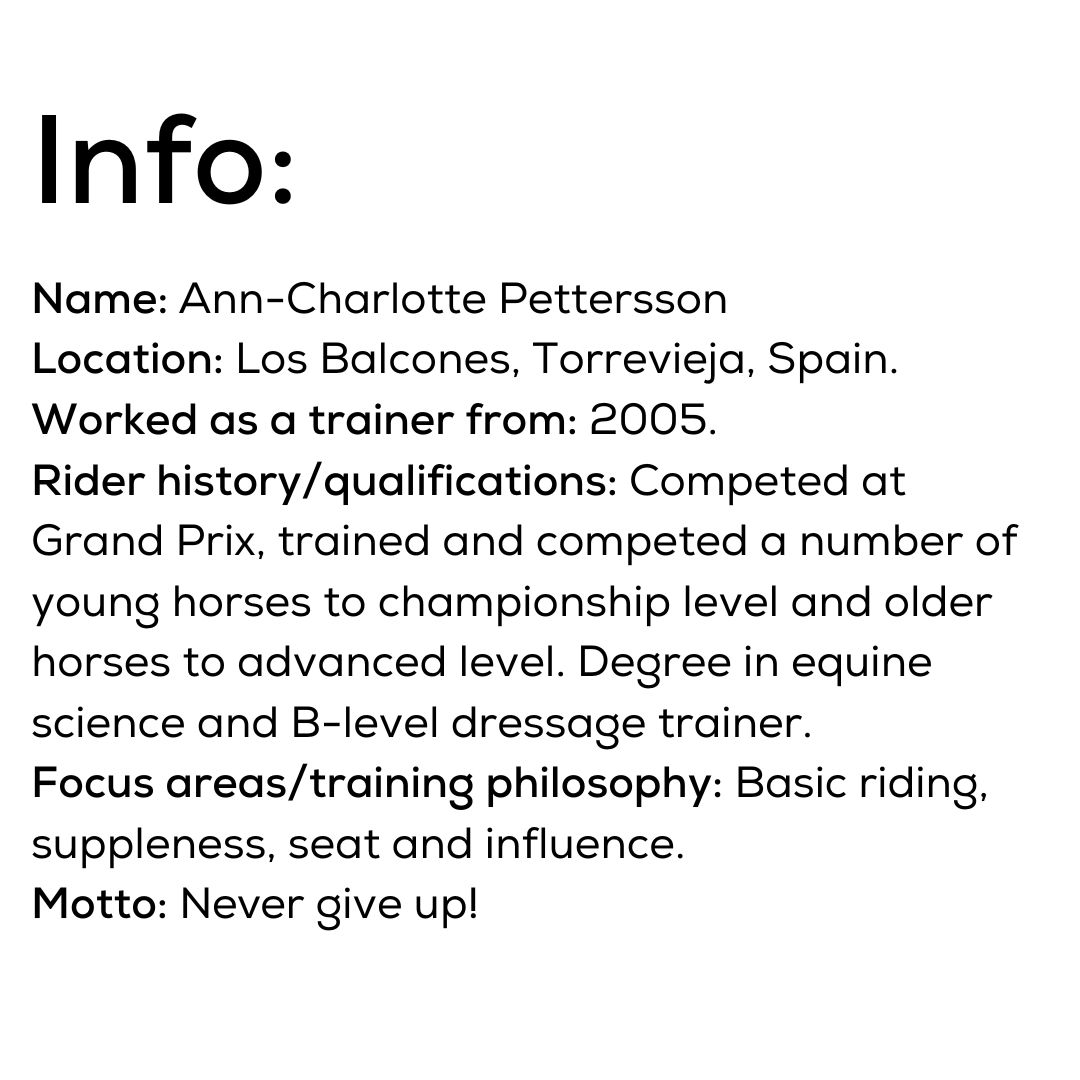 What does one of your training sessions involve?
"We start with the combination introducing themselves and explaining what goals they want to achieve together. Then when I'm teaching a combination for the first time, I like to watch them warm up. Then we start the training session and, at the end, we put together a short-term and a long-term plan to enable the rider to achieve their goals.
If you're not based in Spain, Lotta also runs a lot of online training sessions via Ridesum, where a good internet connection is the most important thing that the rider needs to be aware of.
"Ridesum really is a fantastic tool to use for online training," says Lotta.
Who inspires you and why?
-Charlotte Dujardin, her riding is magical. Kyra Kyrklund is incredibly knowledgeable and can convey her philosophy in a positive and informative way. And Ulla Håkansson, who I can't help but be impressed by.
What do you think more riders and trainers should take on board?
"Humility towards the horse and the sport we take part in."