"I was surprised at how well it went training digitally with Ridesum!"
Sara Ewert lives in Kosteröarna outside of Strömstad. Getting to the mainland with the horse to train, takes almost two hours one-way with the cargo ferry. A big project that happens at most once per year.
– So, guess if I was happy when I heard about Ridesum! Sara says enthusiastically
In Ridesum's trainer pool, Sara found the dressage trainer Eva Jungmark, who she now trains for digitally once a week.
– I was surprised at how well it went training digitally with Ridesum! My horse has progressed very well, and I have become a significantly nicer rider to carry, Sara tells us.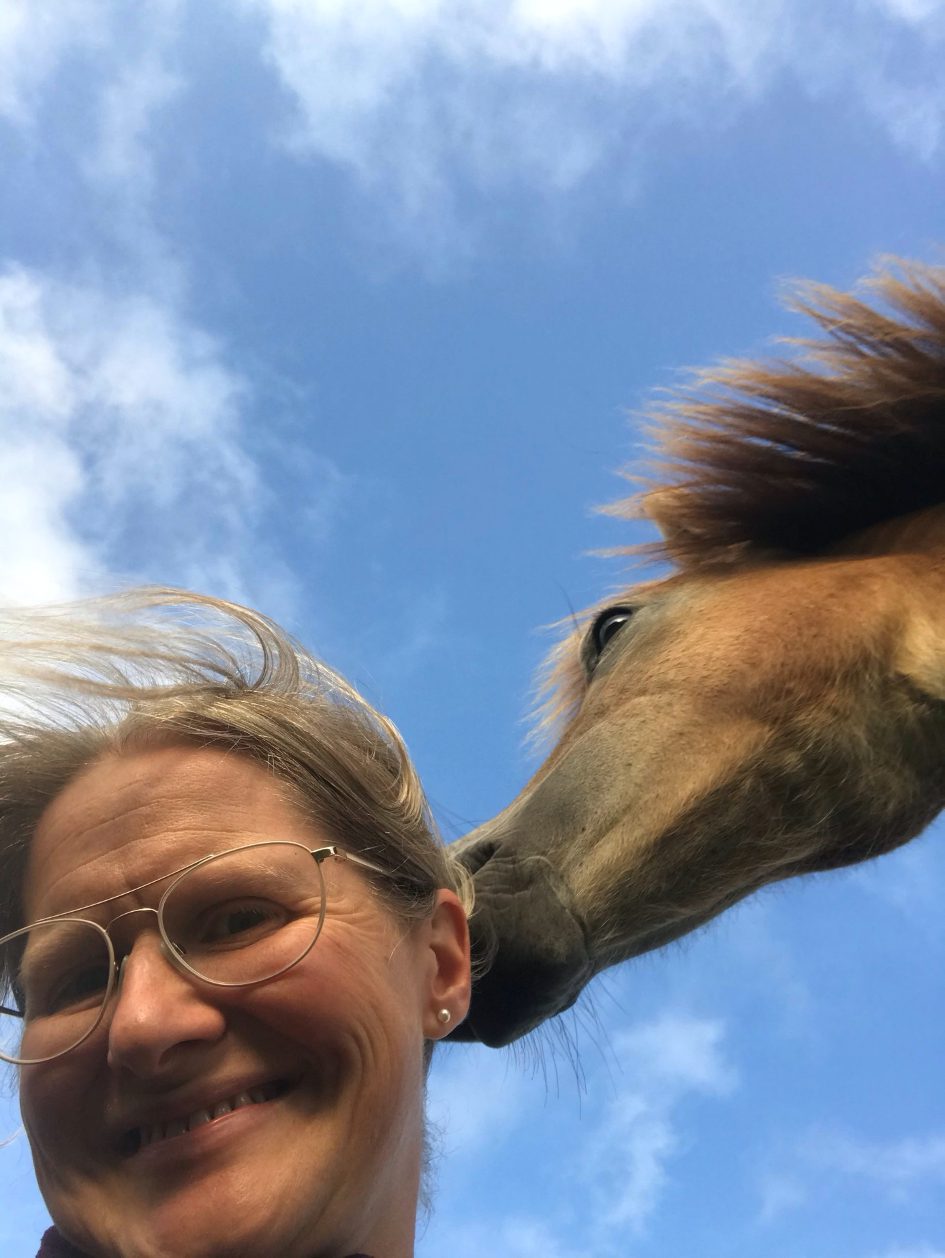 Sara Ewert lives without land connections on the Kosteröarna. Via Ridesum, she found her trainer Eva Jungmark, who she now trains digitally once a week.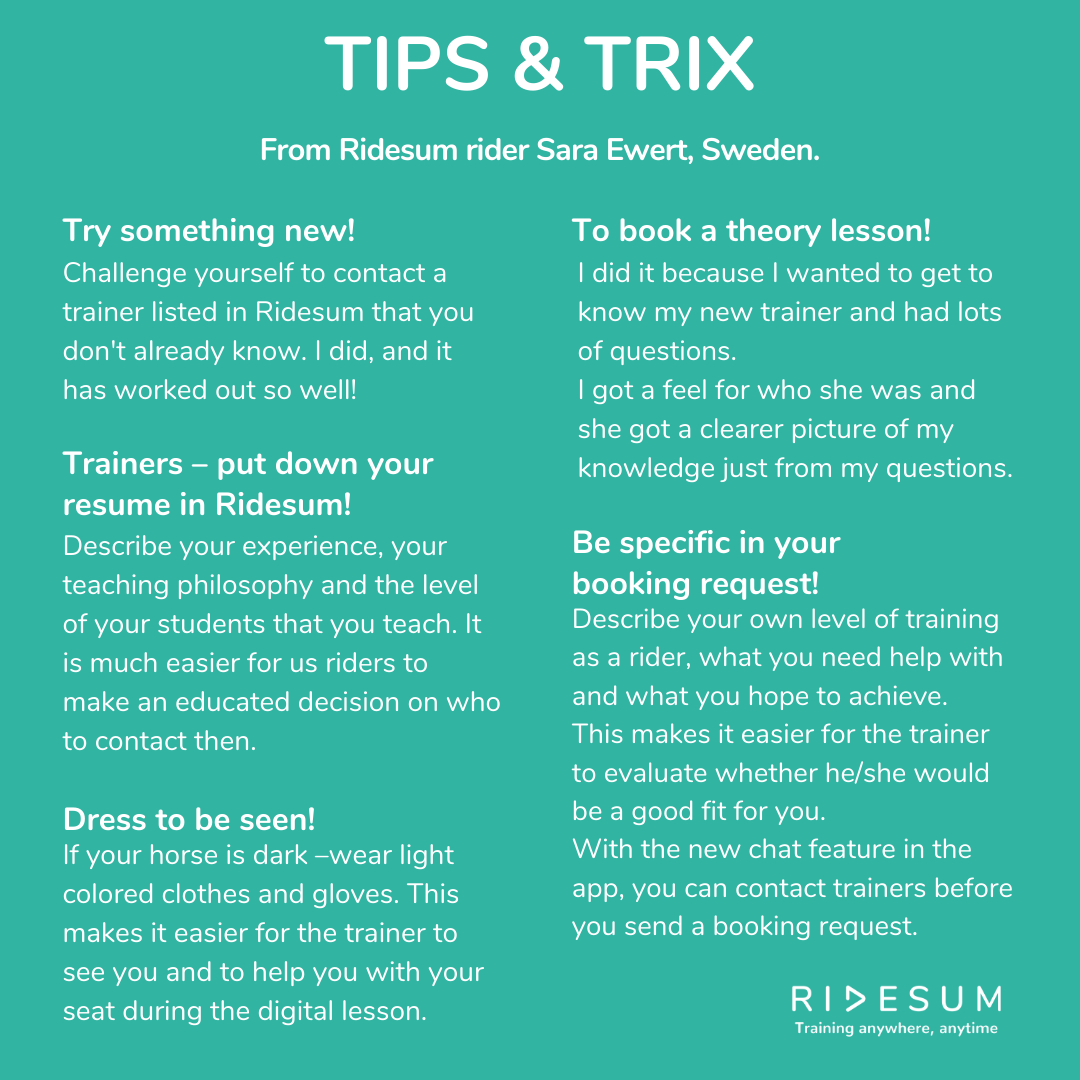 Help to find job satisfaction
Sara, who previously has mostly ridden Icelandic horses, describes herself and her seven-year-old Welsh cob mare, Gwanwyn, as an amateur pair.
– We spend a lot of our time going on trail rides and driving with carriage. But I also have a high ambition to make my horse justice, so that she is kept durable and well. I want us both to be in good condition and to progress together.
Sara needed help with her horse's job satisfaction and impulsion in the paddock but wasn't really sure what she was supposed to do. When she heard of Ridesum, she downloaded the app and searched for trainers in Götaland. Even if she mainly needed to train digitally, she thought it could be great to meet occasionally. Eva Jungmark appeared in the search results and Sara sent a booking request that Eva answered immediately.

Improved focus during Ridesum sessions
Sara remembers the first digital Ridesum lesson she had with Eva very well:
– We got going right away and Eva quickly got an understanding of my horse. I had to work a lot with the basics – impulsion, the equilibrium, and my seat. I noticed immediately when I corrected my seat that my horse got better too. It was a lot of fun and I was completely soaked in sweat afterwards!
Sara also tells us that she gets a particularly good feeling during the digital Ridesum trainings:
– I experience that I have an easier time staying focus when I have my trainer in the ears. There is no one I need to turn to or stop to listen to. Eva's instructions go right into the head, it is very efficient.
Eva Jungmark agrees:
– The rider focuses better on the instructions when it's digital. During "IRL trainings" the rider often wants to check off with me and loses focus in the riding. It becomes more effective and there are no micro breaks when you train via Ridesum.
Theory session and recorded training helps a lot
Initially, Sara also booked a theory session with Eva. There they had the opportunity to get to know each other and Sara got a good picture of Eva's pedagogy and work method. Thus, they could focus on just the riding when they had their first training session together.
Sara has also upgraded her Ridesum account to Premium so that she can look back at her recorded sessions afterwards.
– I want to get the maximum out of every training. Most of all when I look at myself, I see how it looked and what I can correct. It becomes a great tool visualizing what I want to do.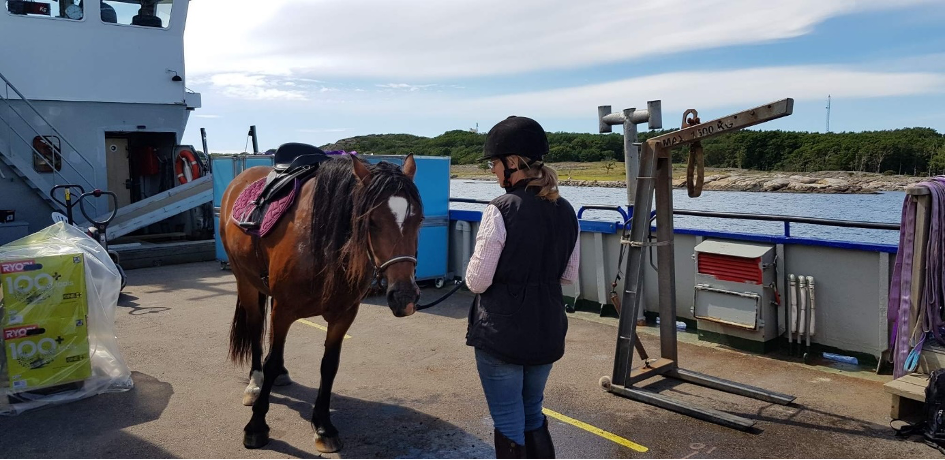 Riding a boat from Kosteröarna by horse is a time-consuming project that takes almost two hours one easy way. Sara is allowed to stand with her horse on a cargo ferry among tractors and other cargo. Digital training with Ridesum has simplified Sara's training routine enormously and made the development take off properly.
Peaked ears at the paddock
Now, a few months have passed since Sara began training for Eva. They have also taken the opportunity to meet twice. Sara experience that she sits much more steady in the saddle with a softer hand. Eva has even helped Sara getting her horse excited and wanting to progress.
– My horse has started to accept working. It was she that needed a little help getting over that threshold and feeling "Oh, it wasn't worse than that?" We have found the job satisfaction together and now she stands with peaked ears when we are about to head into the paddock. It feels like she thinks it is fun. To think that you can accomplish this digitally with your trainer – that is so amazing!
Lastly – when prejudice comes to shame
There is also a fun twist in Sara's history about how she found Eva. Sara and her friend were on a visit at another barn on the mainland and peaked inside an indoor arena where a lesson was going on. The trainer in the corner infused great respect and seemed determined and strict. "God, we would never dare to train for a trainer like that" they thought.

Time passed and Sara started to train digitally for Eva who she found in Ridesum. One day they decided that Eva should come out to Sara on Kosteröarna and when Sara meets her by the boat she discovers that it's the strict trainer they saw in the indoor arena!
– Sure
Eva is determined and straight forward – but also very lovely with a lot of humour! We have a lot of fun together! To think what one's prejudice can come to shame, Sara says and laughs.