The concept of Working Equitation is being conveyed from Portugal to Piteå via Ridesum
Maja Forsell, 23 years old, was not interested in horses as a three-year-old. Today her dream is to represent Sweden in the World Championships in Working Equitation. Her role model, Astrid Hedman, is the one helping her even though she is located 4000 km from Vitsand. Maja is riding in her paddock in Piteå and Astrid is teaching live from her family room in Portugal via Ridesum.
Maja grew up in a horse oriented family in Piteå and discovered thanks to her sister's horse that, "dancing with horses" was not such a bad idea after all. After a few years she found out about working equitation and went to Portugal to gain some experience as a working student at Astrid Hedman's stable, who is a rider and trainer in dressage and working equitation. Maja received lessons and had the opportunity to see Astrid train up-close.
– Her riding is so soft and supple. I actually had an epiphany listening to her talk about dressage, and I found my seat bones! I now use them frequently, she says.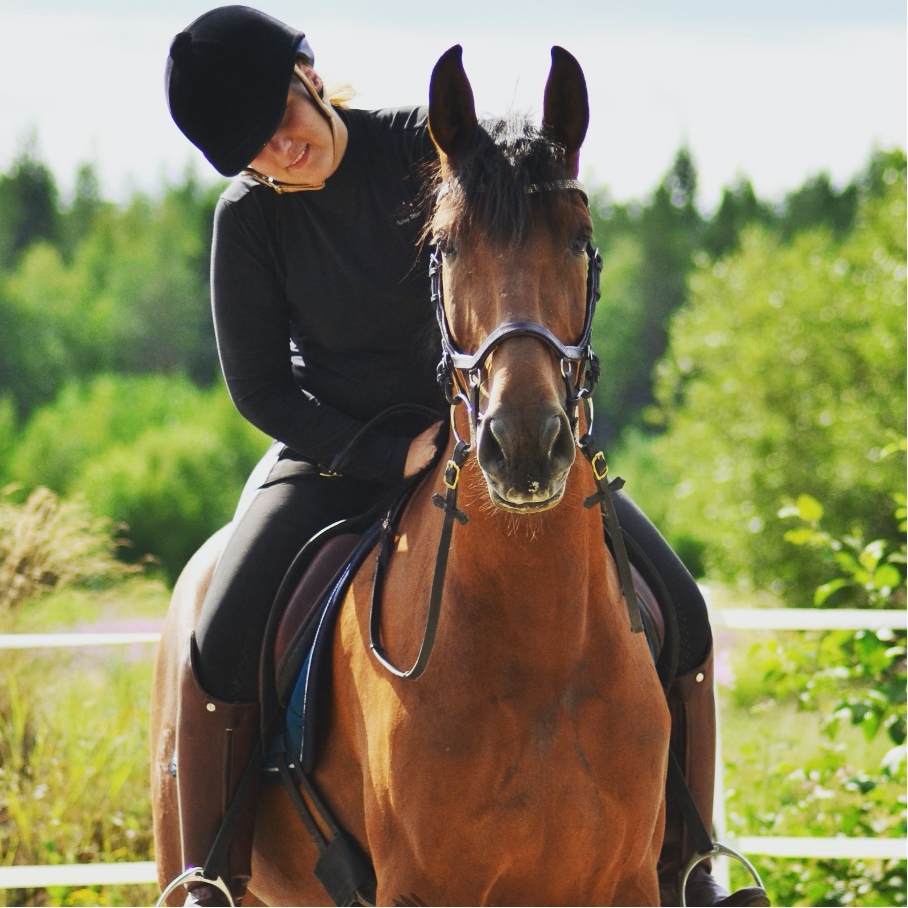 When Maja Forsell can ride regularly for trainer Astrid Hedman via Ridesum, Icaró has gone from a rickety teenage boy with long legs to a real horse (who now measures a full 1.76 cm in height!). Maja also experiences that she herself does not add olates, but develops faster than before.
"World's best invention!"
Maja purchased her Lusitano Icaró in Portugal. He was four years old and was put in training with Astrid for a year before arriving in Piteå. Maja really wanted to continue her training with Astrid – something that was easier said than done considering the distance of more than 4 000 km between the two. In the fall of 2019, Maja received word of Ridesum and quickly tried it out; would this be the solution to her training with Astrid? And sure enough, it worked like a charm. Maja now takes lessons from Astrid on a weekly basis.
"I love Ridesum, it's the world's best invention! And if it works between Vitsand (the community near Piteå where Maja lives) that is located between two mountains with almost no cell phone coverage and Portugal, well then it should work almost anywhere," Maja says.
Maja's mother videos the ride and Maja has her smartphone and headset to hear Astrid's comments. Astrid in the meantime is sitting in her living room in Portugal. Maja purchased a new phone to get even better image and to stream the lesson via 4G.
Astrid in Portugal coaches Maja at a show in Sweden
Maja recently made her show debut with Icaró. Neither the horse or Maja have any show experience to speak of so Maja felt she needed all the help she could get. Astrid was online via Ridesum and coached Maja in her warm-up.
– Both my horse and I could relax, we calmed down and had a nice warm-up with Astrid in my ears. Via Ridesum she was able to see the whole test and was able to give me feedback immediately following the test, which was really helpful, says Maja.
Maja and Icaró scored a nice 65% in their show debut in L-class. In their next show, Maja is planning on having Astrid join once again through Ridesum.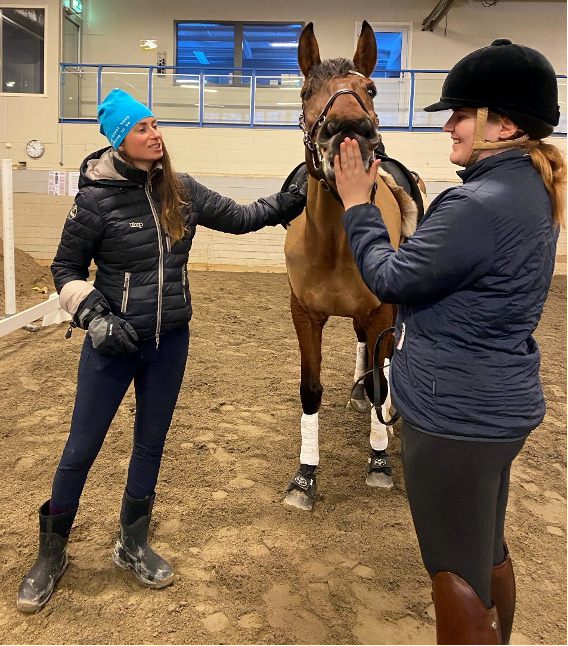 Despite the 4000 km distance between Maja and her trainer Astrid, the two have a close collaboration via Ridesum. She can even coach Maja in her warm-up at a show.
"A lot has happened in the development"
Since Maja started to train for Astrid on a regular basis via Ridesum the development has really progressed.
– So much has happened it's hard to explain. I don't have the long six months between the lessons which minimizes the risk of adding bad habits. Astrid provides the key to get a better feel for myself and my horse. And when Astrid says that I have a good seat, that makes me grow ten meters!
Maja says she is lucky to have both Astrid and her trainer at home: Erika Viklund. She takes lessons from Erika IRL and receives even more knowledge, so the combination of having a trainer on home ground and a trainer on distance via Ridesum ultimately generates a very nice horse.
– Icaró has gone from a gangly teenager with long legs to a real grown-up horse. My goal is to compete at the working equitation Swedish Championships and my dream goal is to represent Sweden in the World Championships. And I want to become just as good of a rider as Astrid!
Do you have a Ridesum Story to share? Please contact us via hello@ridesum.com or Facebook or Instagram.