"With Pocket Office, I save 15 minutes per student and training session"
Jamilla Berg has ridden since she was four years old, started her own company at the age of 18, has won the Swedish and Nordic championships, and placed third in the World Cup with her Icelandic horses. She stands on several different legs in her business and has learned what is important to think about as an equestrian entrepreneur. Availability, a smart business system, and good routines is Jamila's recipe for success.
On Jamila's and her partner Dijar's farm outside of Gävle in Sweden, it is full speed all days of the week, all year round. Jamila manages a boarding stable, training business, horse sales, stallion station, and a breeding program, as well as a hauling business for horses. In parallel, she also has a very successful career in the show ring and has extended the family with the daughter Lana. In other words, there is a lot to keep track of.
"I truly am the spider in the net that have many things to keep track of. If I, for example, have ten horses for sale it means that I have to keep contact with ten horse owners and many speculators. At the same time, we can have 20 mares in the barn that all are going to be bred, as well as having students to train. It means a lot of contact with customers and a lot to keep in your head" says Jamila.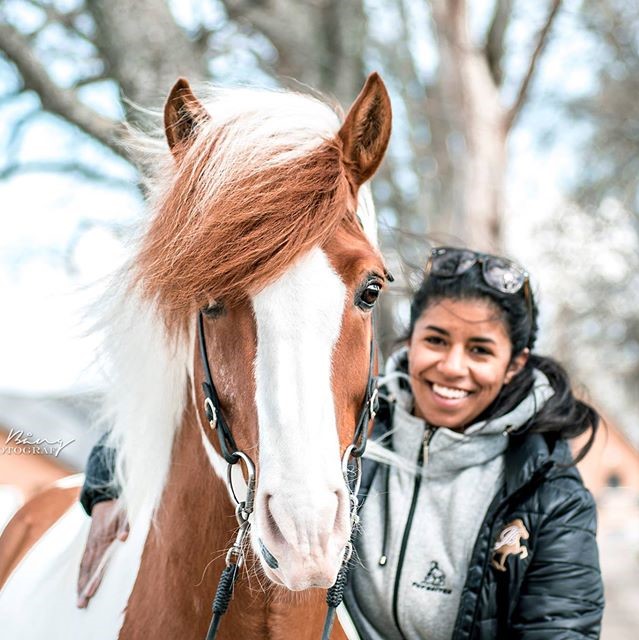 Jamila's 4 tips for efficient entrepreneurship
So how do you go about to get everything to run smoothly as a new horse entrepreneur? After running her own business for 14 years, Jamila has some concrete advice:
Work for an established trainer.
In this way, you can learn a lot as a rider, trainer, and horse business owner. It is useful to experience the reality and how much you are expected to work when you run your own business.
Be as available as possible.
The contact with customers is just as important as training the horses.
We horse entrepreneurs are often very busy, and it is easy for the customer to get tired if you don't answer. It should for example be easy to book a training session with me, my students shouldn't have to wait long for an answer. That's why I use Ridesum's booking system. I add my available time slots for the upcoming month, and my students book a time that suits them directly in the app. We are very satisfied – it is smooth and time efficient for everyone.
Decrease your administrative work – pick a good business system.
It is easy to acquire a lot of administrative work as a business owner and trainer. Therefore, pick a simple and time efficient solution from the start. I use Ridesum Pocket Office where I can keep track of my students, bookings, and payments. I use it for invoicing, receipts are sent automatically, and verifications are summarized. With Pocket Office, I save at least 15 minutes per student and training compared to previous analog system. If you have 40 students during a week for example, it will be 10 hours saved in administrative work per week – time that is much more fun to spend on horses and students.
Have good routines for yourself.
It is easy to work around the clock as a horse entrepreneur, but it isn't sustainable in the long run. You have to feel good in order to be able to give to others. I have the luck of having a partner who doesn't work with horse and that wants a normal life. Therefore, I try to be home around 5 pm. Since I have a farm and kid, I can't travel much either. Here, Ridesum's digital trainings are super – I can coach my students regularly on flexible times, despite long distances.
The pandemic has given more time for training
During the Corona pandemic, Jamila has tried to inspire her students to see the pause on horse shows as something positive – it is fantastic to get an extra year to practice. She means that it's important to turn a challenge into something good. In that way, you can come out even stronger and better on the other side.
Jamila also has "Team Jamila" – 13 students with different backgrounds from all over the country that she trains at least once a month. Most of them have bought their horse from Jamila, and she felt a need for being able to help them on the way, that is how the idea for "Team Jamila" was born. Together they have gone on a study trip to Iceland and had joint courses, which have been very appreciated.
The most fun about being a trainer according to Jamila is to be able to follow the rider and their horse's development and seeing their progress.
"To create communication and simplicity together in the riding is so fun! That's why I work as a trainer!"